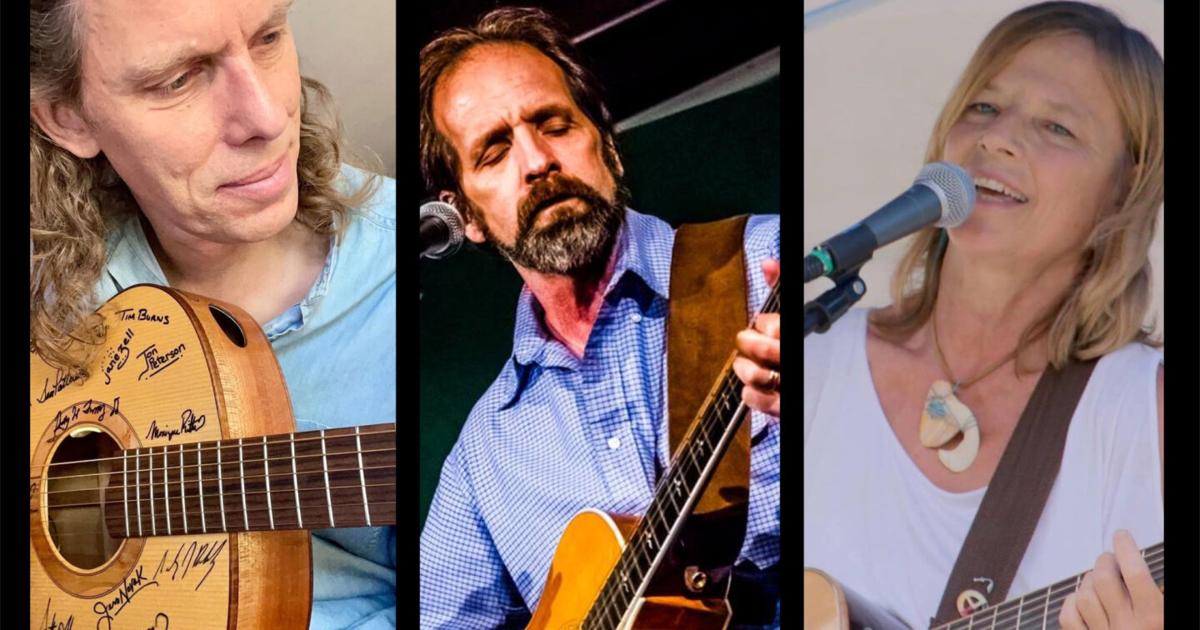 Hook Songwriter Series with Colleen Kattau, Jim Shaffer and Jeffrey Pepper Rodgers in concert | Arts and entertainment
OSWEGO COUNTY – Oswego Music Hall will host the songwriter series The Hook, performed by John McConnell and Cam Caruso, on Friday, December 17. Colleen Kattau, Jim Shaffer and Jeffrey Pepper Rodgers will share the stage from 7:30 p.m., doors open at 7 p.m.
3 songwriters. 1 step. 1 love
Kattau is an award-winning bilingual singer and commissioned songwriter. She has produced six solo albums and three successful CD benefit compilations for environmental and peace actions. For more information, visit: facebook.com/colleen.kattau.
Shaffer has been part of the local music scene for over 25 years. His years playing guitar for the classic rock band, Bad Habit have served him well as he uses his rhythm guitar style to underpin his vocals on his original songs as well as covers of his favorite artists. He is currently focusing on songwriting and released his debut EP "Broken" which was recorded at Subcat Studios in Syracuse. For more information, visit: facebook.com/jim.shaffer.311.
Pepper Rodgers has combined his two passions for words and music in a multi-faceted career as a musician, author and teacher. Grand Prize Winner of the John Lennon Songwriting Competition, he plays kinetic folk rock, combining imagery and storytelling with band-in-a-box guitar playing. Rodgers is also the founding editor of Acoustic Guitar magazine and the author of The Complete Singer-Songwriter and other books on music. For more information visit: jeffreypepperrodgers.com.
For a full schedule of performances and ticket information, visit the website at https://www.oswegomusichall.org/ or pick up a schedule of events in the lobby of the McCrobie Civic Center or stop by River's End Bookstore, 19 W. Bridge Saint in Oswego.
Tickets can be purchased online at www.oswegomusichall.org/, at the door or at the River's End bookstore. The price of tickets for this event is $ 12. Students are $ 10. Children under 16 are half price and children under 5 are free.
The season continues on December 24 for a special "Holiday on the Harbor" Christmas concert online, visit the website or Facebook page for details. Peter Mulvey with special guest opening act J. Schnitt will perform on the main stage on January 15th.
The wheelchair accessible site is located at the McCrobie Civic Center at 41 Lake Street in Oswego. It is adjacent to Breitbeck Park and overlooks Lake Ontario and Oswego Harbor. The atmosphere is intimate with candlelit tables surrounding a small stage. Due to COVID precautions, snacks and drinks will be limited, but available.
Oswego Music Hall is a family-run, non-profit organization that has been run entirely by volunteers since its inception over 40 years ago. Volunteers can be admitted to shows through a variety of tasks, from managing the soundboard to making popcorn. Students can also earn credits for community service. To volunteer, email Volunteer Coordinator Michael Moss at [email protected]
With respect to security protocols, the Music Hall will adhere to CDC, state and local guidelines. They will follow protocols adopted by CNY theaters, which require proof of vaccination before admission to shows or a recent negative COVID test result. In addition, wearing a mask is compulsory except in a seated position. Unvaccinated children can attend but must wear a mask.
The concerts are made possible in part through funding from the New York State Council on the Arts with support from the New York Governor and Legislature. The other main supporters are the city of Oswego and the Shineman Foundation.