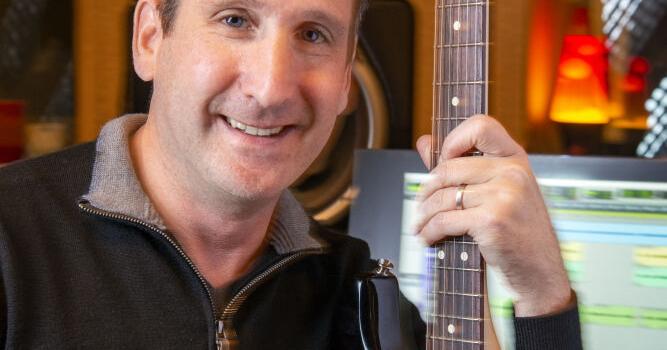 Jewish musician gets new studio in Scottsdale | Community
Scott Leader, the Jewish musician, producer and songwriter who owns Brick Road Studio in Scottsdale, says he's probably worked with every well-known contemporary Jewish singer-songwriter. He has also recorded vocals for pop star Dua Lipa and voice-overs for former Olympian Michael Phelps. "You never know who's going to walk through the door," Leader said.
After 12 years, Leader opens a new door. The building that houses Brick Road Studio has been sold, forcing it to move. By early April, everything should be up and running in the new, larger studio just around the corner at 7430 E. Butherus Dr.
"We were able to build this place from scratch," Leader said.
Leader experienced a recording studio in the 1990s with his high school grunge band. Previously, he learned to play the piano by listening to Billy Joel records as a child.
And he learned to play the guitar after an NFTY youth program counselor asked him to be the song leader. "Being in front of groups of people at NFTY really shaped me," he said, "and set me on the path to start playing music."
His youth band experiences also speak to the crucial role music played in Leader's post-bar mitzvah Jewish life. Leader, who is part of the Sababa trio and has performed across the country and around the world, said he enjoys connecting with the Jewish community through music.
"No matter where you are and the cultural differences, Jewish music is something all Jews understand," he said. "They've heard the lyrics before, even though the melody is different."
Leader first discovered music production while working at Sam Glaser's famed studio in Los Angeles. While Leader taught at a Jewish school in Austin, Texas, he was fresh out of college and unsure what he was doing with himself. Interning at Glaser that summer, however, "altered the trajectory of my life," he said, introducing him to the field of recording.
Around the same time, another Jewish singer-songwriter—Noah Budin—came to Austin to perform for an audience of 1,000 at the Jewish Community Center. A mutual friend suggested to Budin that Leader play a song on his set, so the two jammed together. They succeeded.
"The night before the gig, he said, 'Dude, I wish you would play this gig,'" Leader recalled. "I'm going, 'Great, that would be great. What song do you want me to do? He says, "All."
And so Leader stayed up until 3 a.m. pounding on the piano, learning all of Budin's music. Performing for him the next day encouraged him to pursue his dream of making music professionally.
"The concert was one of the most incredible experiences of my life," he said. "Sometimes something happens musically with two people – you just click and hear each other, you have those moments where it sounds so good. We had never rehearsed before.
Decades later, Leader writes and performs Jewish music for his band and helps other artists produce at Brick Road Studio. It's a unique skill set that he says helped his studio survive when others closed during the pandemic.
Since COVID-19, his two bandmates have become busier doing other things, but Sababa has been working on songs remotely and plans to release an album this year.
He is also a solo cantor at Congregation Kehillah in Cave Creek and teaches music production a few days a week at Arizona State University, where he earned a master's degree in education.
Previously, he earned degrees in science and Judaic studies at the University of Arizona, where he transferred from Rutgers University his freshman year after visiting a friend.
"I got off the plane in February and it was 75 degrees and sunny," he said. "After I got home, I got in my car, drove across the country and transferred to the U of A."
He lived in Austin for two years after college and in Los Angeles for two years after that. "I came back here because I like the weather and the atmosphere here," he said.
And if the 200 albums of Jewish music he's helped produce over the past two decades are any indication, Leader's vibe is also appreciated here. jn
For more information, visit brickroadstudio.com.
Rudy Malcom is a Baltimore-based freelance journalist.