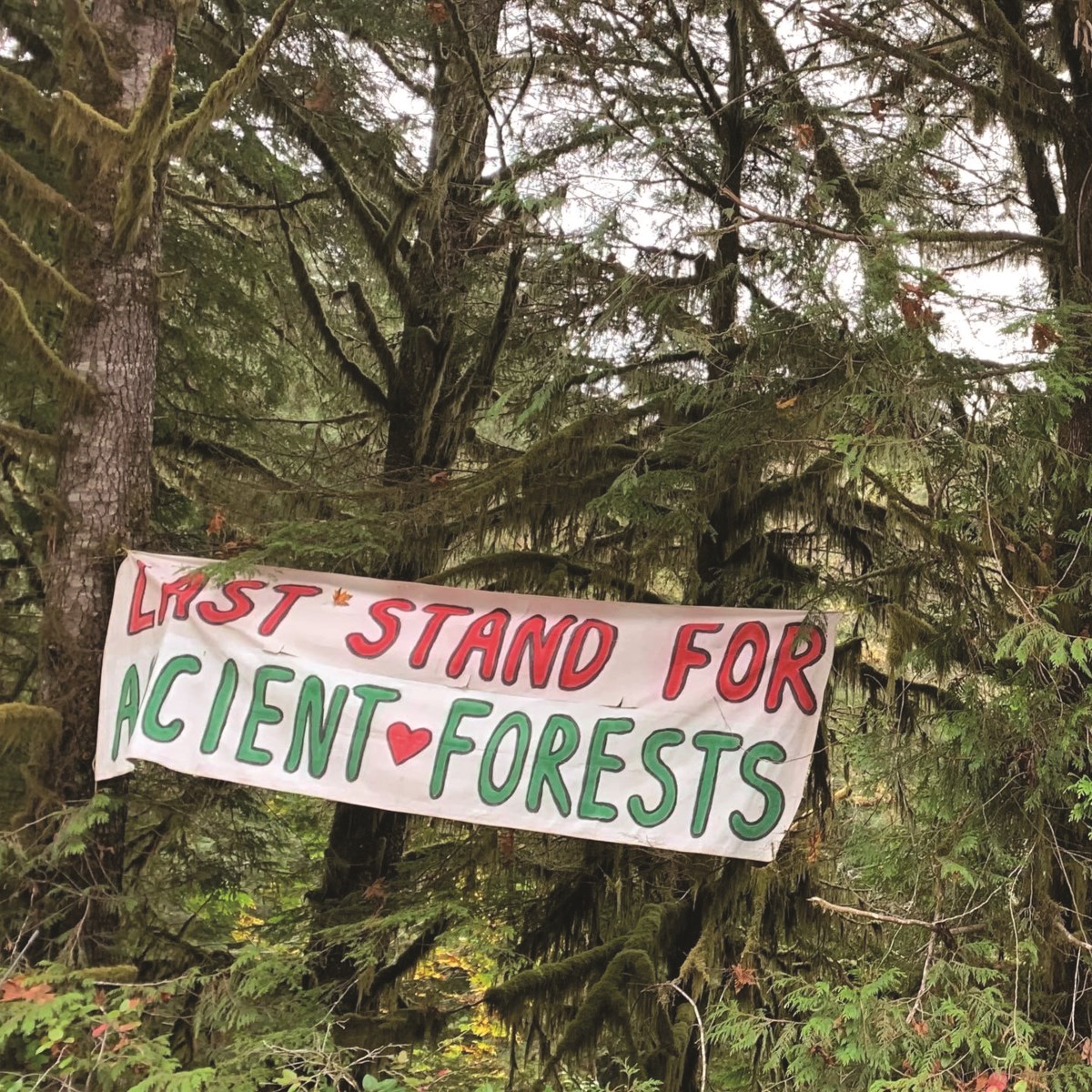 Whistler musician pays tribute to protesters in Fairy Creek
Local musician inspired by visits to the site of Canada's greatest act of civil disobedience
Whenever Laura Nedelak hears rain falling from the roof of her home in Whistler, the first place her mind goes is a muddy forest on southern Vancouver Island, some 150 kilometers away.
"I think, 'Oh my god. They are over there, "says the singer-songwriter. "Maybe it's a maternal thing. I think it's a human thing.
The 'they' Nedelak refers to are the thousands of protesters who, since last summer, have uprooted their lives to make their way to Fairy Creek on Pacheedaht Nation lands, leaving behind careers and obligations to fight the logging of old-growth forests.
"Honestly, I couldn't help but think of them, because I know it's winter; it's awful and it's raining, "says Nedelak. "I just wanted to keep the conversation going because it was all in the news this summer, but it's still happening. They're still cutting some fucking big trees over there, forgive my French.
Deemed to be the greatest act of civil disobedience in Canadian history, the Fairy Creek blockades received global coverage at the height of the protests this summer, as footage of land defenders confronting the RCMP and reports of journalists excluded from the site made international news. So far, more than 1,100 protesters have been arrested, some on multiple occasions, and the RCMP has spent more than $ 3.7 million to enforce a court-ordered injunction against the protesters.
Nedelak, who has visited the camps twice, including last October with his son, couldn't help but want to document the experience.
"I really felt like it was something amazing. I had never experienced anything like this, "she says. "Anytime I'm somewhere where I really need to move forward, I have to write something down to be able to do it. Because I couldn't help but think about it. I still can't help but think about it.
This led to Nedelak writing the song "Ancients Fall" and a subsequent music video shot in Fairy Creek by his son, Connor Warnock, winner of the local 2021 Rough Cuts competition as part of this year's virtual World Ski and Snowboard Festival.
"He kind of went there reluctantly, but when he got there I know it had a real impact on him," Nedelak said.
This second trip was not smooth. Arriving on the island on the day of an atmospheric river that left much of the province covered in water, Nedelak and his crew faced sudden road closures near Cowichan Bay and nowhere to stay. At the crossroads, it was Connor who convinced them to continue.
"It really wasn't very nice there; there was a lot of flooding. That's when he said to me: 'I know this is the irresponsible thing to do, but we have to keep going,' "recalls Nedelak. "He looks at me and says, 'I do irresponsible things every day.' I'm like 'Shit, I thought I raised you better.' Then the road opened up and everything went well.
It was important for the folk singer to "keep the conversation going" as Fairy Creek appeared to disappear from the radar of most British Columbians after the British Columbia Supreme Court in September denied a one-year extension of the l injunction against the lockdowns, with Judge Douglas Thompson citing concern that police enforcement has led to serious violations of civil liberties, including an attack on press freedom. (Last month, a panel of judges from the British Columbia Court of Appeal reserved its decision on the future of the injunction. The judges did not set a date for a ruling.)
"It is very important that we highlight these issues. We still have to talk about it. They don't just have to be a flash in the pan because climate change is not going to go away and we have these kids on the front lines and they are doing an amazing job and they are not getting the credit they deserve, "said Nedelak . "It's probably innate to them; they're so driven by the cause that they don't expect any kind of adulation, but from a stranger like me that's not my role. I'm not going to be there for six months, but at least I can help… get the word out and keep this word alive.
"I don't think people recognize the work they do there for all of us."
Watch the video for "Ancients Fall" on YouTube.